Important things to know before buying the perfect chair for yourself
Buying a perfect chair for yourself have always been a hassle. Most of the time we aren't even aware of what are the characteristics of the perfect chair. There are very few people who actually know about the right posture and perfect chair. Our purpose for this article is just to help you educate about a chair. Before buying the chair, one should know the proper way of sitting on a chair.
Insight into Correct ways of sitting
 The back should be straight and shoulders should be at the back
 Lower back and Backside should touch back of the chair
 Back curves (all three) should be present while you sitting on the chair
 Body weight evenly distributed on hips and knees bent at the right angle (90°)
 Feet should be on floors flat
So these are the correct way of sitting, now we will help you with how to achieve it.
How to achieve an upright posture?
 Feet should be kept equal with respect to should width apart. Similarly like we do workouts in the gym
 Weight should be evenly distributed on both the ankles
 The shoulder should be kept squared
 The head should be kept up and relaxed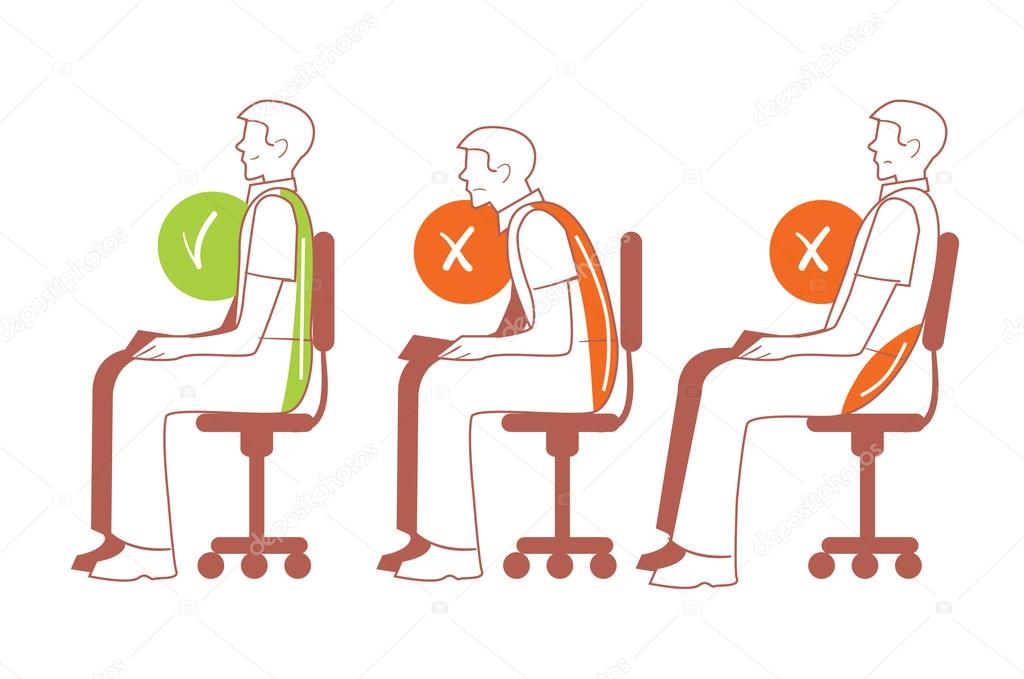 Now after Knowing about the correct posture and some easy ways how to achieve it, One should also be aware of certain chair designs that are not suitable for us.
Certain chair designs to be avoided
One should avoid chairs which are made up of complete metal and having hard back support with metal. As those kinds of chairs used for a longer time can cause pain in back and hips.
A Chair without back support or improper back support if used for a longer time, can lead to pain in back and neck as there is no support.
A chair should be selected as per user's height because a tall person will be uncomfortable using short chairs whereas short person will also get discomfort while sitting in a long person's chair.
Leather chairs can be a reason to make you uncomfortable if being used for long hours as leather is not a breathable material causes sweat.
 A Chair with uneven surface and uneven back can also cause severe problems if used continuously.
Avoid broken and chairs which have nut bolts on their surfaces, as it's dangerous if used regularly.
So next time, while selecting chairs keep these points in mind and we are sure. You'll be making a good decision.