Runners are important, Here's why
What Are Table Runners For?
Table runners are available in all varieties. They are either used on a table cloth as extra protection or directly on the table. But are they really important? Do you really need them? Or are they just extras?
Well, if you ask us, we think table runners are important and we've got legit reasons for holding this stand. Here are a few reasons:
Protecting The Table
Table runners are often used to keep all cutlery, jams, juices, sauces and all other things that often get spilled on the table. If you are using a table runner on a table directly, it can save your table from all kinds of damage that can be caused by spills. If you are using a table runner on a coffee table, these little pieces of cloth become saviors for spilled coffee.
Your table is well protected if you have a table runner on. They also negate the compulsory use of a tablecloth on a table. A table runner also gives a nice dimension to the table making it look more appealing.
Protecting The Table Cover
Now, if you have a tablecloth on the table, you might think that you don't need a table runner but let us tell you that table runners can come as handy assistants for tablecloths. How do you ask? Table runners are placed over tablecloths. They are about one-fourth or one-third of the size of a tablecloth. To wash a tablecloth every other day is difficult owing to its size. It takes a long time for it to dry as well.
Table runners help get rid of this difficulty. They are easy to wash and mostly all the spilling is done on them or the table mats. Thus, they protect the table cover from overwash and a lot of spills.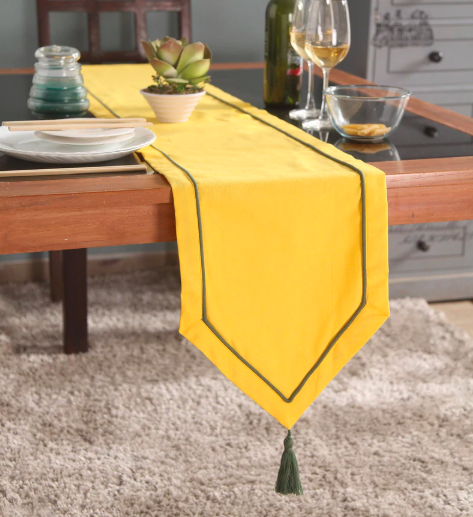 Adding Sophistication
Table runners add sophistication to the table and the overall decor of the room in which they are placed. They act as enhancers for the furniture that they occupy. It is an indication that the house is well kept and organized. Table runners also create a focal point for all the things that are to be placed on the table, especially on a dining table.

It helps to set an organized table for meals while making way for plates and cutlery to be spaciously placed on the table. And we can't deny the fact that they look incredibly beautiful on the table!
Now that you know the various ways in which table runners are useful, why don't you go through the options given below and choose the right table runner for your dining table? Check them out!
Table runners are truly important for home decor. Aren't they?
Tagged:
decor tips
home decor