Decor Your Drawing Room with these Modern Wooden Sofa Set in Rs 30000
Sofa sets are a sine qua non when talking about furniture. Without sofa set your home décor furnishing is incomplete. Talking about sofa set for big families a three, four or five-seater fits in the demand well. In this regards simple wooden sofa set designs with high durability are the first choice of buyers for their drawing rooms. Apart from accommodating all members, these sofa set will fit in the style of modern-day home décor. Getting these wooden sofa set designs in the budget is something that worries you as a buyer. If that's the case then the budget would no longer be an issue for you.
Check these attractive simple wooden sofa set designs priced INR 30,000 and get the one you like for your home.
The Convival Modern Sofa Set
This leatherette build sofa set is a perfect fit for your drawing room. Though a 3 seater this one can easily accommodate 4 people. The Pepperfry's discount makes the deal an attractive option.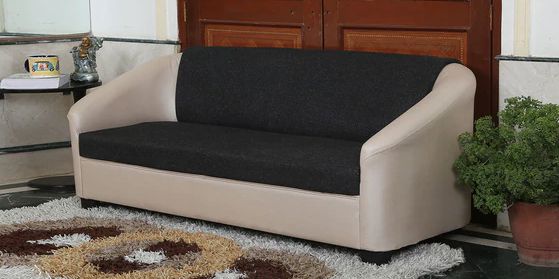 Modern Style Sofas usually come in fixed back with cushions attached to the frame. They mostly come with minimal details & compact proportions. These sofas can be with or without arms. – Pepperfry
Felix Three Seater Sofa 
If you love rich black finishing then this one can probably blow your mind. Rich royal black leatherette built and strong base support makes this one a real masterpiece. Categorized as a typical three-seater the spacious seating is well enough for five members.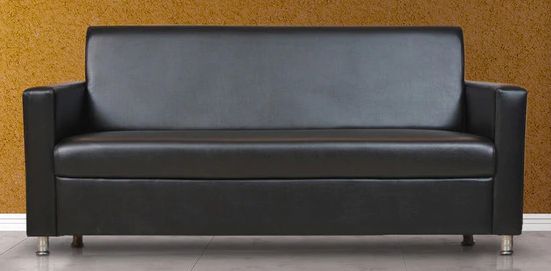 Mexico Red & Black Sofa
The red and black cushioning along with a tinge of white in the back makes this one a charmer. Base support is strong enough to grant it a durable strength. With a 28% discount on it, this modern furnishing element is a must pick for your home décor.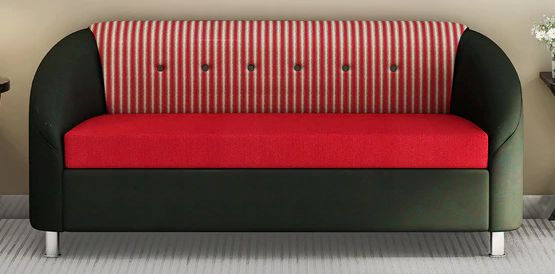 Nelson Sofa Set
This one is a three-piece sofa set with a two-seater central sofa. The black leatherette working is again the show stealer. The cushioning on each of the sofa makes seating a real comforting experience. If you have kids at home then they would surely love to jump, play and sleep on it.
Get this one at a handsome discount at pepperfry.com.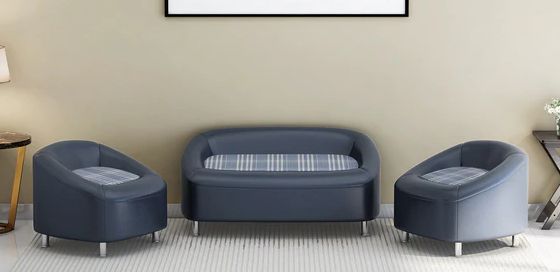 Vienna Metallic Sofa Set
If neither wooden nor leatherette built excites you then you can surely try this one out. This five-seater metallic sofa set with the three-seater central piece is quite effective on durability and style front. The maroon colour mattress further adds to the charm apart from making seating a comfortable experience.
Exclusive discount on its purchase ensures that you don't stress your pocket for picking this one up.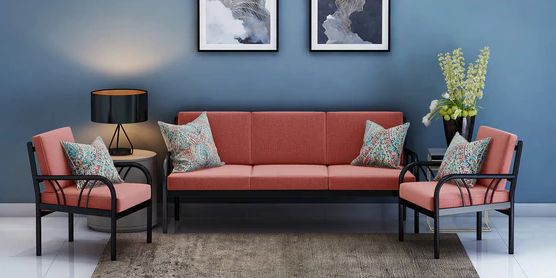 Get The Country Look For Your Home With These Benches And Settees
How to Choose a Good Upholstery Fabric for Sofas
Pepperfry Tips to Maintain Your Sofa Set:
Do not keep warm or cold items directly on a furniture surface; instead use a hot pad or coasters; please do not keep hot items like a tawa or baking dish even on a hot pad.

To protect your furniture from fading, avoid keeping your furniture next to windows and other places where it can be exposed to direct sunlight.

To avoid minor scratches which may hamper the finish of your furniture avoid sliding or passing items placed on your tabletop.

Avoid placing items like burning candles or irons on any furniture as the heat generated from them may affect the life of your furniture in the long run, make use of candle holders to avoid melting wax touching the furniture.

Cleaning your furniture items regularly will help you maintain them for a long time, make sure that you clean your furniture gently with a soft lightly damp cloth; using a rough rag and pressing it hard against the wood might lead to minor scratches.

In case of a spill on the furniture, never try to wipe it as it will spread the spill and hamper the polish, instead just blot the spill.

To protect your furniture from moisture, avoid placing it in direct contact with damp walls. We recommend wiping the moisture promptly with a dry, soft & lint-free cloth.
Tagged:
drawing room decor
home decor
Modern furniture
wooden furniture