Set Love Free, Decorate The Cage!
Indian constitution has finally set love free and we couldn't be happier. Just as we, as a country, are not caging emotions anymore, it is not a good idea to cage birds either. Set those birds free from their cages. But wait, don't throw away the cages! We have got some pretty cool ideas for you to decorate birdhouses and cages at your home, without caging the birds of course!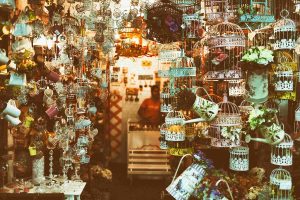 Bird cages can become a very beautiful piece of decor at home if you know how to do it nicely. Have a look at some of the decor ideas we have for different types of bird cages.
Showpiece Simplicity
A Basic Metal Bird Hut can be hung as it is near the window or in the balcony without doing much with it. Just a little cleaning and you are good to go with this type of bird cage to be used as a showpiece at your home. This type of bird cage comes in different peppy colors and looks good with contemporary home decor.
Converted Bird House
A beautiful Bonsai Bird House is something that little girls would love to play with. If you are into collecting dollhouses then this can be a pretty addition to it. If you have children at home, you might want to place this kind of birdhouse in their rooms as a decor piece and as a playhouse for them. They are surely going to love this!
Vintage Vines
A Copper Bird Cage looks regal and elegant. It gives out a serious vintage vibe. This kind of cage looks quit classy when coupled with a few vines and crawlers. Crawling plants with or without flowers, look quite pretty when hanging out from a copper birdcage. This type of cage can be decorated in the balcony if the plants on it are not indoor survivors.
Bird Hammock
Not typically a cage but a Wooden Colourful Bird Hammock can also be used as a decor piece at home. They are not too big and therefore do not take up much space. You can also choose a bird hammock which is not too colorful and is all wooden so that it matches your furniture. Not everything at your home should be purposeful after all. Some things should just be there to make space look attractive, right?
Nest For Guests
If you are looking for a purposeful decor item then a Coconut Fibre Bird Nest won't disappoint you. A fiber nest can be used by birds during egg laying season and it can also serve the purpose of decoration in your balcony. Birds like a cozy place to lay the eggs and if you don't mind a few guests over for a month or two then buying a birds nest is a great bargain.
If you don't like caging birds, you can still make use of the cages and nests! DIY decorating can't be easier than this. Go for it!
Tagged:
home decor
outdoor decor