Right Essential Oils For Right Places Of Your House
Whether you're looking for a clean and crisp aroma for your bathroom or a relaxing and soothing scent for your bedroom, these are the essential oils you need.
Your foyer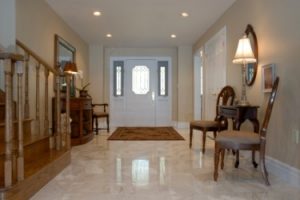 In the entrance of your home, alongside your welcome mat, a fragrant essential oil can encourage visitors to enter with calm and ease. For this area, experts recommend opting for an essential oil that's been shown to reduce anxiety, such as orange or cinnamon. The Orange essential oil is an emotionally uplifting oil which has been shown to reduce anxiety, lower heart rate, and ease stress.
Another favourite fragrance to use in the home is a cinnamon essential oil, a classic scent that recalls memories of baking and childhood. Cinnamon signals 'fun' to our memory centers and is a great way to welcome a guest.
Your kitchen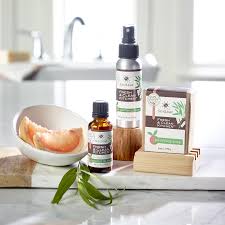 For a clean, crisp scent for a room in your home, you most likely prefer to keep spick and span, opt for lemon essential oil. Lemon is antibacterial and a stimulant so it has natural purification properties built in. It's also a sense awakener—it clarifies the mind, dispels anger and provides a sense of new energy. If you want your kitchen to feel cosy, the cinnamon essential oil is a must. Cinnamon elicits feelings of warmth and comfort, and since cinnamon is so prevalent in baked goods, many people associate cinnamon with warm memories of baking, sipping hot apple cider, and spending time with family as a child. More than other scents, cinnamon evokes a sense of security and well being.
Your living room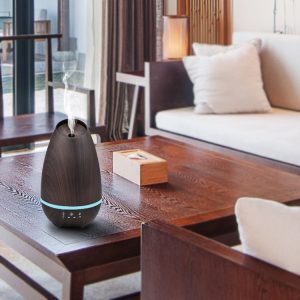 According to experts, the best essential oils for your living room depending on the activities you enjoy doing in that room the most. If you want to relax after a long day and forget about stressful events, then go for fir needle oil. It's sweet, relaxing and connects us with nature. That last part is important, as scents that remind us of nature have been linked to lower blood pressure. Add one to two drops to your favourite potpourri mix or diffusing up to ten drops in a diffuser. Fir oil has a powerful and sweet scent when inhaled directly from the bottle, so if you're stressed and need a quick pick me up, carry some in your pocket.
If use your living room as an office or spot to catch up on work then go for rosemary essential oil. It stimulates creativity and activates our memory.
You can also inhale directly from the bottle to experience the scent or diffuse one to two drops as you work.
Your dining room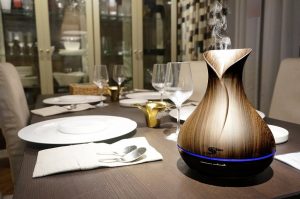 This is probably not the room of your home where you sit down for every meal, but rather where you dine for special occasions—all the more reason to make sure it smells appetizing! In addition to choosing an essential oil that's welcoming, you'll want to select one that revs up your appetite, such as bergamot. Do avoid strong scents that may distract you from eating or suppress your appetites such as peppermint or ginger. Copaiba, an essential oil derived from the trunk of a South American tree. Copaiba has a low-key but refreshing, woody scent that will enhance the space and create a calm, peaceful atmosphere without overwhelming you.
Your bedroom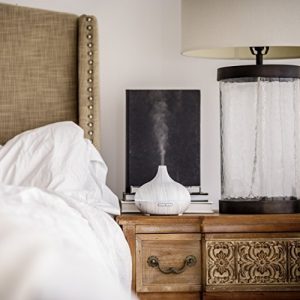 This is the room of your home you're likely to spend the most time in. Not only will you want to choose an essential oil fragrance that you enjoy, but you'll also want to opt for one that's calming, relaxing and can help you get ready to fall asleep. The rich, floral scent of jasmine can do just that, as well as evoke feelings of intimacy. But the scent is powerful, so diffuse just one to three drops in water for the best results. You can also place a single drop in candles as they burn to enjoy the scent.
If you want to start your day feeling empowered, keeping a bottle of frankincense essential oil nearby or on your nightstand is beneficiary then. The earthy scent of the resin reconnects you with nature and will help you feel more grounded.
Your laundry room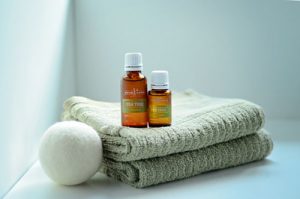 The laundry room is often forgotten about part of the home and one that can trigger stress because it reminds us of household chores. For this reason, selecting a relaxing scent that will leave your clothes smelling even nicer than your detergent. Try a combination of lemon and copaiba essential oils. The bright, cheerful scent of lemon will inspire you to feel happy and refreshed and, if you dread doing laundry, the warm, woodsy scent of copaiba will relax and ease your worried mind.
Your bathroom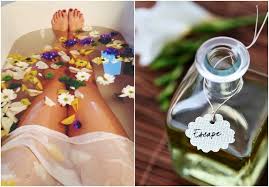 It's inevitable that your bathroom won't always smell as fresh and clean as you'd like, so to keep it light and airy, choose an essential oil like lemon, eucalyptus, or tea tree. Not only do they possess antibacterial properties, but they are associated with stimulating the mind. If you enjoy a nice, long bath after a hectic and hard-won work day, you'll want to choose an essential oil that induces feelings of relief and relaxation, like lavender. The linalool chemical constituents in lavender oil help you relax because they signal your brain's temporal lobe, where you'll be reminded of past positive experiences. Just one drop of lavender essential oil in a bubble bath is all you need to fill your bathroom with a relaxing, floral scent.
Your basement or attic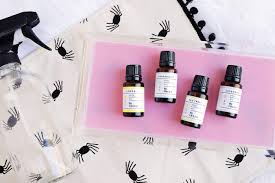 If you use your basement and attic to store belongings, go with cedarwood. It has a warm, uplifting scent that can elicit feelings of nostalgia and cosiness. From a practical standpoint, cedarwood will also keep insects away from your possessions and keep the space clean. Place two to three drops on a cotton ball and store inside boxes you've filled with your belongings to keep them smelling fresh.
Tagged:
Bedroom Decor
Essential Oils
kitchen decor
living room decor
Positive Energy