Decorate Your Kids Room with Handy Tips
Your kid's room is the most chaotic and the most distressed space in the house. You need to find out the right kind of storage solutions and some decorating tips, to reduce the chaos in the room.
Organizing the stuff in the room well is the key to get a neat and clean room, you must look for the self-cleaning end up means.
Combat storage is also very essential for the room, open shelves to keep the stuff, baskets, the laundry ones to keep the toys in a place.
Decoration ideas using themes, you can use stickers and other related inexpensive décor items that can be changed easily with your child grows.
A canopy can arrange above the bed to give a soothing a cozy effect your kid.
Use must use neutral colors on the walls and furniture on bedsheets, drapes, and accessories that keep changing and adapting to your child's tastes.
You can get the works of your kid framed and put it on the wall, use collaging technique and together with your kids make a lovely family or friend collage, that will surely add love and fun.
Lighting to energize the eyes, you must make sure that you provide good lighting in the kid's room.
Ensure to put the night lamp in your kid's room, to make them feel brave enough to get up and find a way to the bathroom, lamps look beautiful in the night.
Here are some elements that you should have in your kid's room.
Bedside Tables For Kids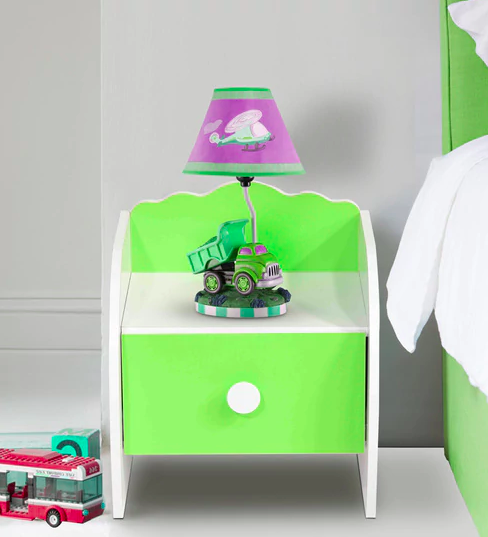 A Themed Bed For Kids Room
Lamp & Lighting for Kids Room
Theme Based Wardrobe for Kids Room
Study Table for Kids Room
Hope you liked the idea? 🙂 So let's do it. Let's Make our Juniors Room Perfect and Lovely. So that they can enjoy their study and have fun in their own room.
Related:

Kids Wardrobe, A wardrobe for your young ones

10 Clocks for Kids that You'll Surely Love
Tagged:
home decor
kids furniture