Avail handsome discounts on furniture collection from Ikiriya
Shopping without discounts is not an option in this era of e-commerce. When exclusive offers and discounts are up for grab who wouldn't like to grab them. What if such discounts come on products from a reputed brand?
Well, if you wished for that then your wish just got true. Discounts of up to 30% off are available on products from Ikiriya. So, if you were looking to shop for furniture then this is the right time to make your move.
Bestselling products from Ikiriya 
As you go on to shop for products from Ikiriya don't miss out on some of the best rated and bestseller ones. To make it easy for you we have listed the top 10 products from the brand. Take a look:
1. Solid Sheesham Wooden Coffee Table
This wooden cabinet from Ikiriya is crafted purely from solid Sheesham.  Being a multi-purpose cabinet it provides shelves and drawer to store things like magazine and newspaper. With a discount of 29% off, it's a deal to grab.
Price: INR 12, 349
2. Rosewood Coffee cum Center table
Made of solid rosewood this coffee cum centre table from Ikiriya is a nice fit for the living room. The durability and style add to the charm of the product. To protect it from termites the products comes coated with seasoned termite resistant.
Price: INR 5,999
3. Two Seater Wooden Bench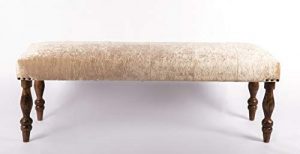 2 seater wooden benches are a good supplement to your sofa set in the drawing room. This comfy 2 seater bench from Ikiriya is more than just a supplement. With attractive Velvet upholstery and comfy sitting experience, this is an eye grabber.
Price: INR 3, 649
4. Standard Cube Stool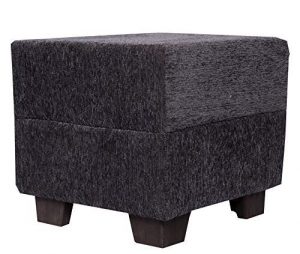 Ikiriya brings in a wide collection of tools for its buyers. This classic cube stool of Ottoman style is one best product out of this collection. The stool comes with mossy wine upholstery and has strong wooden support.
Price: INR 2,999
5. Wood bottle rack
This wood bottle rack with stylish design and walnut finish is a popular product form Ikiriya. To add to its attraction the product comes with a handsome 22% discount on it.
Price: INR 1, 949
Click here to view More Details
6. Round Pouf Stool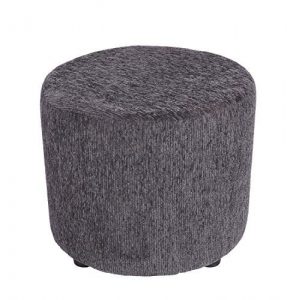 Talking of stools you can't one this from your shopping list. With a simple design and moss grey look, this is one must-have item from Ikiriya. Shop for it and avail discounts of 23%.
Price: INR 2,849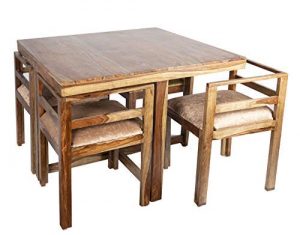 This 4 seat dining table set comes with an attractive teak finish and Ivory velvet upholstery. To add to the comfort of dining together with the family this is what you should have.
Price:  INR 18,999
Click here to view full details
8. Classic Coffee Table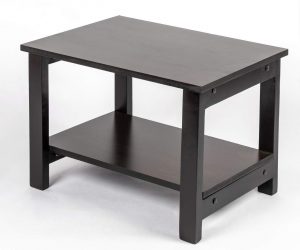 If simple yet attractive is your idea of furniture then this one is for you. This classic black look coffee table is made of mahogany and comes with a discount of 22% of on it.
Price: INR 2,949
Click here to view more details
9. Folding Laptop Table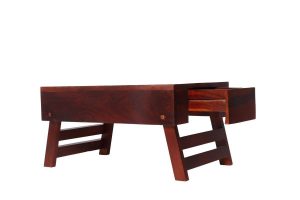 If you love to work on the laptop sitting in your bed or have kids who play games on the laptop then this is a must-have. This attractive folding wooden table comes with walnut furnish and termite resistant body.
Price: INR 2,949
10. Footstool with Cushion
The product comes with a teak finish and soft cushion sitting. The footstool is made of 100% pure solid rosewood and comes with Ivory velvet cushion. Buyers can get a discount of 29% off on its purchase.
Price: INR 2,349
Click here to view more details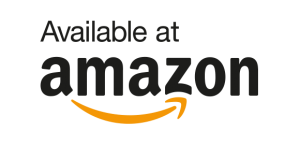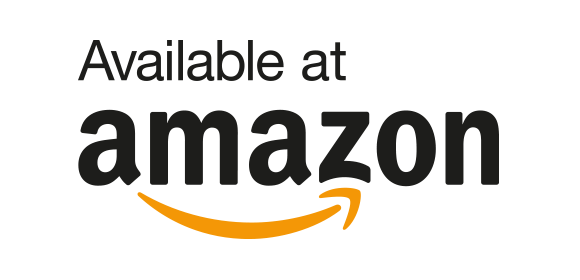 Tagged:
Ikiriya
online furniture
wooden furniture